Click HERE to download MLO's 2021 calendar.

Event Navigation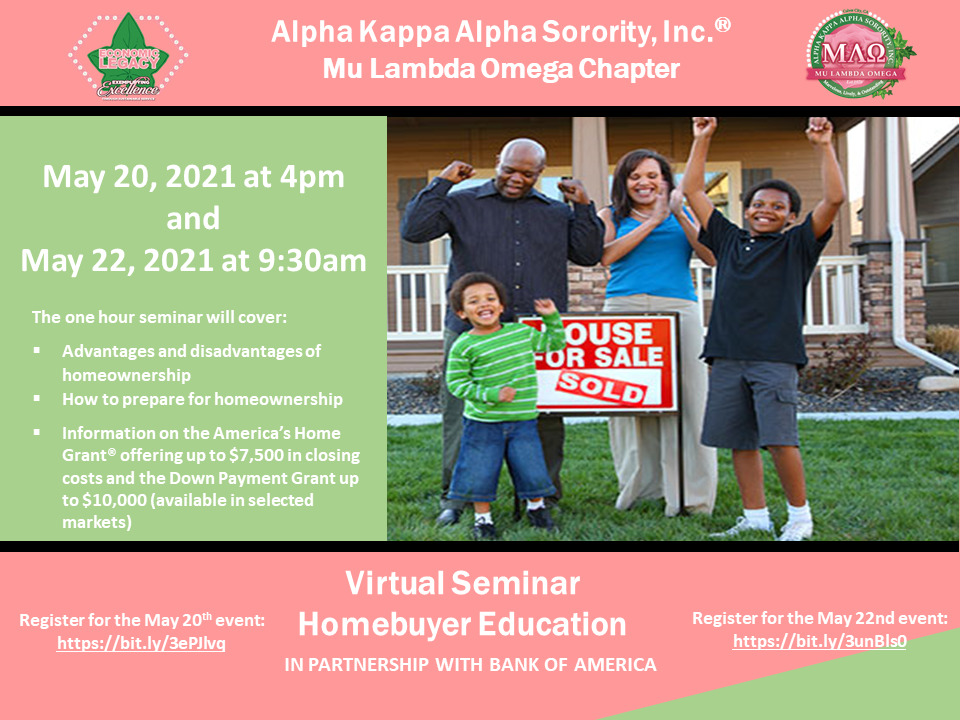 Homebuyer Workshop
May 20 @ 4:00 pm

-

5:00 pm
Description
Mu Lambda Omega is helping to spread the word about a very informative session about buying a home!
Bank of America's Community Homeownership Commitment® is bringing together products and resources that can help modest-income borrowers buy homes of their own. By combining down-payment assistance and closing-cost help with a low-down-payment mortgage, you may find that a new home is within reach.
As part of our first-time homebuyer education series you can learn about resources that can make buying a home more affordable for you.
America's Home Grant® is our lender credit of up to $7,500 that can be used toward nonrecurring closing costs, like title insurance and recording fees, or to permanently buy down the interest rate.
Down Payment Grant is our grant program with up 3% of the home purchase price, up to $10,000, whichever is less, to be used for a down payment in select markets.
Search for properties that may be eligible for our homebuyer grant programs in the Bank of America Real Estate Center® **
Search for local and national cost savings programs including our homebuyer grants on our Down Payment Center.
Our First-Time Homebuyer Online Edu-Series helps homebuyers learn about Affordable Home Buying Solutions and the 5 steps to buying a home
You will also get the chance to learn more about tools Bank of America offers.  REGISTER HERE!